Learning about Careers
Learning about Careers is ideal for middle school courses such as Career Discovery, Career Exploration, Transition, or any class that can profit from blended academics and work readiness
Program Details
PRINT
Contact Us for Pricing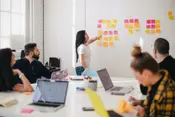 Ready to Get Started?
Click the button to get started!
Why Learning about Careers?
Whether beginning a career emphasis or advancing their career information, students need a simple, real-life view of the type of work employees in different jobs encounter each day. Learning about Careers offers students the role of employee in 32 targeted careers where they practice blending academic and work readiness skills while completing typical job tasks.
Learning about Careers provides 32 lessons in 16 career clusters. Each lesson includes a career overview where students identify the skills, knowledge, and characteristics required to achieve success, a personal budget exercise based on earnings in a specific career field, and additional resources for further exploration.
They are ideal for courses in career discovery, career exploration, transition, or any class that can profit from blended academics and work readiness.
Lessons can be printed, or stored on individual computers or a school server.
Connecting the Dots
Students will be able to make preliminary decisions about careers while improving their work readiness and academic skills.
Explore Learning about Careers Lessons
Try free demo lessons straight from the program to see if Learning about Careers is right for your students. View video content, sample real lesson materials, and assessment questions. Dive into the program and get the full experience.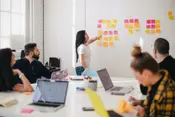 Try a Lesson
Interactive Student Lessons
Explore Demo
Lessons
Careers
Adoption Supervisor
Architect
Art Therapist
Athletic Trainer
Avionics Technician
Botanist
Chef
Conservation Officer
Consumer Advocate
Correctional Supervisor
Court Reporter
Database Administrator
Dispatcher
Entrepreneur
Financial Planner
Firefighter
Hotel Convention
Manager
Insurance Adjuster
Kitchen Designer
Marketing Associate
Nutritionist
Paralegal
Pediatric Nurse
Perfusionist
Pharmaceutical
Sales Representative
Property Manager
Purchasing Manager
Quality Control
Inspector
Reading Teacher
Software Engineer
Special Effects
Technician
Welder