A Lesson A Day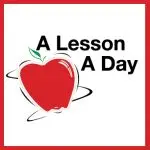 Students can explore the relationship of math, English, science, social studies, communication and workplace ethics to a wide variety of careers.
Program Details
PRINT
Contact Us for Pricing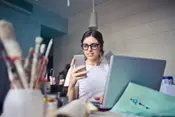 Ready to Get Started?
Click the button to get started!
Why A Lesson A Day?
A Lesson A Day can reduce class downtime by filling a few minutes with effective learning materials. By setting aside only 10 or 15 minutes, you can have students apply academic activities to real jobs. The career academic lessons in A Lesson A Day can be used when students finish assignments quickly, when you need to fill a few minutes, or when compiling materials for substitute teachers. A Lesson A Day is popular as a bell ringer, also.
A Lesson a Day is flexible and especially valuable for students with short attention spans. Lessons can be evaluated for a grade or as a project, and activities can be combined for longer time frames. All lessons are printable and reproducible.
Your students at the upper elementary and middle school levels will profit from A Lesson A Day, which can be used as an individualized learning effort on teacher-directed lesson.
A Lesson a Day comes in PDF on USB or online. Series I contains math, science, and technology activities. Series II contains English, Communication, Ethics, and Social Studies activities.
Your Choice
Lessons can be evaluated for a grade or used as a learning project only.
Substitute Ready
Substitutes can use A Lesson a Day to keep class tempo moving in the teacher's absence.
Explore A Lesson A Day Lessons
Try free demo lessons straight from the program to see if A Lesson A Day is right for your students. View video content, sample real lesson materials, and assessment questions. Dive into the program and get the full experience.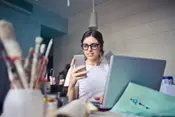 Try a Lesson
Interactive Student Lessons
Explore Demo
Lessons
Math
Flying High, Career: Massage Therapist
How Much Does One Pizza REALLY Cost?, Career: Restaurateur
I Quit!, Career: Machine Operator
Looking at the Lay of the Land, Career: Urban/Regional Planner
Dream Maker, Career: Landscaper
It's All in the Planning, Career: Financial Planner
Gross Pay! Net Pay!, Career: All careers
There's 'No Way' I Can Go to Work Today, Career: Administrative Assistant
How Much Is Needed?, Career: Cook
It's in the Math, Career: Construction
Cleaning Up with a New Business, Career: Custodian
Stick to the Schedule, Career: Photographer
A Pinch of This and a Dash of That, Career: Chef
The Long Haul, Career: Truck Driver
Making Money, Career: Public Relations Specialist
Let's Add Some Graphics to Those Flyers, Career: Desktop Publisher
Information Please, Career: Retail Customer Service
Slow Down!, Career: Police Officer
Sticky Fingers, Career: Retail Loss Prevention
Partners in Crime, Career: Security Guard
Newspaper Ad, Career: Media Buyer
How Much Will You Pay?, Career: Cosmetologist
Science
Don't Be a Mad Scientist, Career: Scientist
Knowing Hot from Cold and Wet from Dry, Career: Carpenter
Having a Bad Hydrogen Day?, Career: Hair Stylist
A Close-Knit Family, Career: All careers
What's HAZMAT?, Career: HAZMAT Transporter
What's Sugar Got to Do With It?, Career: Health Care Customer Service
Looking at the Lay of the Land, Career: Health Care Customer Service
Cough! Cough!, Career: All careers
Preserve, Protect and Defend the Environment, Career: All careers
Dangerous Desk, Career: All careers
Dirty Air, Career: HVAC Technician
Air Quality Equipment, Career: HVAC Technician
Cavity Chemistry, Career: Dental Hygienist
Move It, Career: Home Health Aide
Flying High, Career: Aircraft Pilot
Weighing In, Career: Physician Assistant
Let the Sun Shine, Career: Seed Grower
Hot Wheels, Career: Automotive Service Technician